Figure Stones (Pierres Figures) Elsewhere
Most of the figures shown below and on the pages referenced from this one incorporate at least one of the bird-human features characteristic of artifact material at the Day's Knob site. Some are obvious, others are subtle. Note that a "bird" here, as on most pages of this website, usually has a more or less rounded quasi-anthropomorphic face.
North America
Click on the figures below to expand:
Europe
Click on the figures below to expand:
Hawaii (Maui)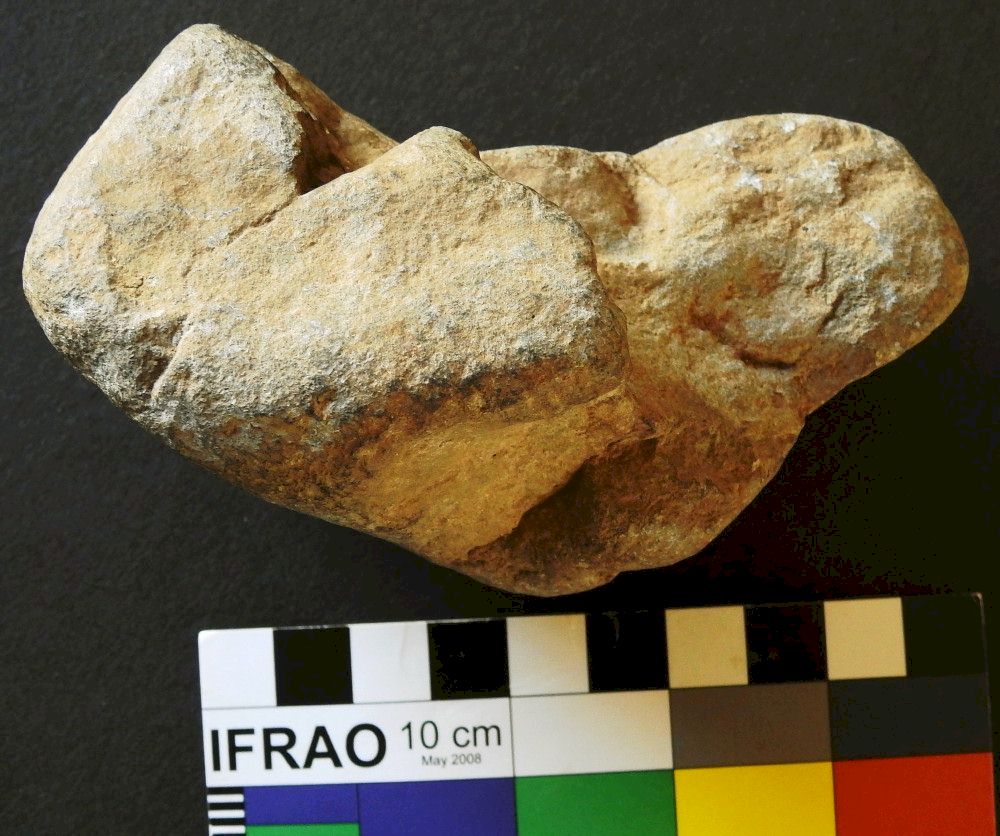 Basalt Figure Stone collected by this author in woods near northeast coast of Maui, October 2019.
Africa
Karnak, Egypt
This flint end scraper in classic bird form, 6 cm (2.4") in length, was found by Matthijs Doornekamp. Note the characteristic eye in the correct location and the attention given to its detail.
South America
The Pedra Furada Site, Brazil

Not many photographs of artifacts from Pedra Furada have been published, but sketches in the Athena Review seem to suggest a similarity to the material at Day's Knob, like the three picks shown above next to a sketch of one from Pedra Furada dated to 25,000- 32,000 years BP from charcoal in context.
____________________ ____________________
Dr. James B. Harrod's OriginsNet website provides an extensive and thought- fully presented array of photographs of artifact material from Oldowan through Upper Paleolithic in the context of "researching the origins of art, religion, and symbolic meaning".

The similarity of much of the material to that at Day's Knob is quite evident. A notable example is a collection of artifacts assembled by Dr. Walther Matthes of the University of Hamburg, Germany at http://www.originsnet.org/hambwitt2gallery.

Dr. Matthes noted the prevalence of bird and double-face (Janus-like or "bifrontal") motifs in Ice Age artifact material near the coast of the North Sea.
Click your browser's "Back" button to return to the point from which you entered this page.